Amelia Mary Earhart was a noted American aviation pioneer and author. Earhart was the first woman to receive the Distinguished Flying Cross, awarded for becoming the first aviatrix to fly solo across the Atlantic Ocean. She set many other records, wrote best-selling books about her flying experiences and was instrumental in the formation of The Ninety-Nines, an organization for female pilots.
Earhart joined the faculty of the world-famous Purdue University aviation department in 1935 as a visiting faculty member to counsel women on careers and help inspire others with her love for aviation. She was also a member of the National Woman's Party, and an early supporter of the Equal Rights Amendment. During an attempt to make a circumnavigational flight of the globe in 1937 in a Purdue-funded Lockheed Model 10 Electra, Earhart disappeared over the central Pacific Ocean near Howland Island. Fascination with her life, career and disappearance continues to this day. Earhart joined the faculty of Purdue University in 1935 as a visiting faculty member to counsel women on careers and as a technical advisor to the Department of Aeronautics. In July 1936, she took delivery of a Lockheed Electra 10E financed by Purdue and started planning a round-the-world flight. Not the first to circle the globe, it would be the longest at 29,000 miles (47,000 km), following a grueling equatorial route. Although the Electra was publicized as a "flying laboratory," little useful science was planned and the flight seems to have been arranged around Earhart's intention to circumnavigate the globe along with gathering raw material and public attention for her next book. Her first choice as navigator was Captain Harry Manning, who had been the captain of the President Roosevelt, the ship that had brought Amelia back from Europe in 1928.
Through contacts in the Los Angeles aviation community, Fred Noonan was subsequently chosen as a second navigator because there were significant additional factors which had to be dealt with while using celestial navigation for aircraft. He had vast experience in both marine (he was a licensed ship's captain) and flight navigation. Noonan had recently left Pan Am, where he established most of the company's China Clipper seaplane routes across the Pacific. Noonan had also been responsible for training Pan American's navigators for the route between San Francisco and Manila. The original plans were for Noonan to navigate from Hawaii to Howland Island, a particularly difficult portion of the flight; then Manning would continue with Earhart to Australia and she would proceed on her own for the remainder of the project.
On St. Patrick's Day, March 17, 1937, they flew the first leg from Oakland, California to Honolulu, Hawaii. In addition to Earhart and Noonan, Harry Manning and Hollywood stunt pilot Paul Mantz (who was acting as Earhart's technical advisor) were on board. Due to lubrication and galling problems with the propeller hubs' variable pitch mechanisms, the aircraft needed servicing in Hawaii. Ultimately, the Electra ended up at the United States Navy's Luke Field on Ford Island in Pearl Harbor. The flight resumed three days later from Luke Field with Earhart, Noonan and Manning on board and during the takeoff run, Earhart ground-looped. The circumstances of the ground loop remain controversial. Some witnesses at Luke Field including the Associated Press journalist on the scene said they saw a tire blow. Earhart thought either the Electra's right tire had blown and/or the right landing gear had collapsed. Some sources, including Mantz, cited pilot error. With the aircraft severely damaged, the flight was called off and the aircraft was shipped by sea to the Lockheed facility in Burbank, California for repairs.
While the Electra was being repaired Earhart and Putnam secured additional funds and prepared for a second attempt. This time flying west to east, the second attempt began with an unpublicized flight from Oakland to Miami, Florida and after arriving there Earhart publicly announced her plans to circumnavigate the globe. The flight's opposite direction was partly the result of changes in global wind and weather patterns along the planned route since the earlier attempt. Fred Noonan was Earhart's only crew member for the second flight. They departed Miami on June 1 and after numerous stops in South America, Africa, the Indian subcontinent and Southeast Asia, arrived at Lae, New Guinea on June 29, 1937. At this stage about 22,000 miles (35,000 km) of the journey had been completed. The remaining 7,000 miles (11,000 km) would all be over the Pacific.
On July 2, 1937 (midnight GMT) Earhart and Noonan took off from Lae in the heavily loaded Electra. Their intended destination was Howland Island, a flat sliver of land 6,500 ft (2,000 m) long and 1,600 ft (500 m) wide, 10 feet (3 m) high and 2,556 miles (4,113 km) away. Their last known position report was near the Nukumanu Islands, about 800 miles (1,300 km) into the flight. The United States Coast Guard cutter Itasca was on station at Howland, assigned to communicate with Earhart's Lockheed Electra 10E and guide them to the island once they arrived in the vicinity.
Through a series of misunderstandings or errors (the details of which are still controversial), the final approach to Howland Island using radio navigation was not successful. Fred Noonan had earlier written about problems affecting the accuracy of radio direction finding in navigation. Some sources have noted Earhart's apparent lack of understanding of her Bendix direction-finding loop antenna, which at the time was very new technology. Another cited cause of possible confusion was that the USCG cutter Itasca and Earhart planned their communication schedule using time systems set a half hour apart (with Earhart using Greenwich Civil Time (GCT) and the Itasca under a Naval time zone designation system).
Motion picture evidence from Lae suggests that an antenna mounted underneath the fuselage may have been torn off from the fuel-heavy Electra during taxi or takeoff from Lae's turf runway, though no antenna was reported found at Lae. Don Dwiggins, in his biography of Paul Mantz (who assisted Earhart and Noonan in their flight planning), noted that the aviators had cut off their long-wire antenna, due to the annoyance of having to crank it back into the aircraft after each use.
During Earhart and Noonan's approach to Howland Island the Itasca received strong and clear voice transmissions from Earhart identifying as KHAQQ but she apparently was unable to hear voice transmissions from the ship. At 7:42 a.m. Earhart radioed "We must be on you, but cannot see you—but gas is running low. Have been unable to reach you by radio. We are flying at 1,000 feet." Her 7:58 a.m. transmission said she couldn't hear the Itasca and asked them to send voice signals so she could try to take a radio bearing (this transmission was reported by the Itasca as the loudest possible signal, indicating Earhart and Noonan were in the immediate area). They couldn't send voice at the frequency she asked for, so Morse code signals were sent instead. Earhart acknowledged receiving these but said she was unable to determine their direction.
In her last known transmission at 8:43 a.m. Earhart broadcast "We are on the line 157 337. We will repeat this message. We will repeat this on 6210 kilocycles. Wait." However, a few moments later she was back on the same frequency (3105 kHz) with a transmission which was logged as a "questionable": "We are running on line north and south." Earhart's transmissions seemed to indicate she and Noonan believed they had reached Howland's charted position, which was incorrect by about five nautical miles (10 km). The Itasca used her oil-fired boilers to generate smoke for a period of time but the fliers apparently did not see it. The many scattered clouds in the area around Howland Island have also been cited as a problem: their dark shadows on the ocean surface may have been almost indistinguishable from the island's subdued and very flat profile.
Whether any post-loss radio signals were received from Earhart and Noonan remains controversial. If transmissions were received from the Electra, most if not all were weak and hopelessly garbled. Earhart's voice transmissions to Howland were on 3105 kHz, a frequency restricted to aviation use in the United States by the FCC. This frequency was not thought to be fit for broadcasts over great distances. When Earhart was at cruising altitude and midway between Lae and Howland (over 1,000 miles (1,600 km) from each) neither station heard her scheduled transmission at 0815 GCT. Moreover, the 50-watt transmitter used by Earhart was attached to a less-than-optimum-length V-type antenna.
The last voice transmission received on Howland Island from Earhart indicated she and Noonan were flying along a line of position (taken from a "sun line" running on 157–337 degrees) which Noonan would have calculated and drawn on a chart as passing through Howland. After all contact was lost with Howland Island, attempts were made to reach the flyers with both voice and Morse code transmissions. Operators across the Pacific and the United States may have heard signals from the downed Electra but these were unintelligible or weak.
Some of these transmissions were hoaxes but others were deemed authentic. Bearings taken by Pan American Airways stations suggested signals originating from several locations, including Gardner Island. It was noted at the time that if these signals were from Earhart and Noonan, they must have been on land with the aircraft since water would have otherwise shorted out the Electra's electrical system. Sporadic signals were reported for four or five days after the disappearance but none yielded any understandable information. The captain of the Colorado later said:
"There was no doubt many stations were calling the Earhart plane on the plane's frequency, some by voice and others by signals. All of these added to the confusion and doubtfulness of the authenticity of the reports."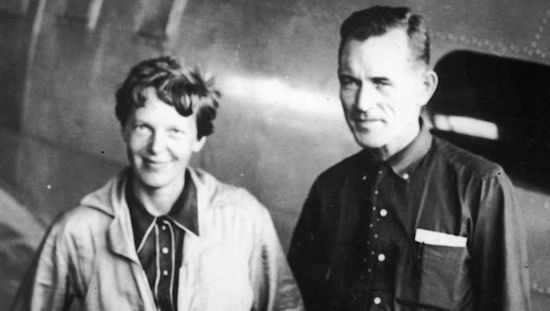 Search efforts
Beginning approximately one hour after Earhart's last recorded message, the USCG Itasca undertook an ultimately unsuccessful search north and west of Howland Island based on initial assumptions about transmissions from the aircraft. The United States Navy soon joined the search and over a period of about three days sent available resources to the search area in the vicinity of Howland Island. The initial search by the Itasca involved running up the 157/337 line of position to the NNW from Howland Island. The Itasca then searched the area to the immediate NE of the island, corresponding to the area, yet wider than the area searched to the NW. Based on bearings of several supposed Earhart radio transmissions, some of the search efforts were directed to a specific position 281 degrees NW of Howland Island without finding land or evidence of the flyers. Four days after Earhart's last verified radio transmission, on July 6, 1937 the captain of the battleship Colorado received orders from the Commandant, Fourteenth Naval District to take over all naval and coast guard units to coordinate search efforts.
Later search efforts were directed to the Phoenix Islands south of Howland Island. A week after the disappearance, naval aircraft from the Colorado flew over several islands in the group including Gardner Island, which had been uninhabited for over 40 years. The subsequent report on Gardner read:
"Here signs of recent habitation were clearly visible but repeated circling and zooming failed to elicit any answering wave from possible inhabitants and it was finally taken for granted that none were there... At the western end of the island a tramp steamer (of about 4000 tons)... lay high and almost dry head onto the coral beach with her back broken in two places. The lagoon at Gardner looked sufficiently deep and certainly large enough so that a seaplane or even an airboat could have landed or takenoff in any direction with little if any difficulty. Given a chance, it is believed that Miss Earhart could have landed her aircraft in this lagoon and swum or waded ashore."
They also found that Gardner's shape and size as recorded on charts were wholly inaccurate. Other Navy search efforts were again directed north, west and southwest of Howland Island, based on a possibility the Electra had ditched in the ocean, was afloat, or that the aviators were in an emergency raft.
The official search efforts lasted until July 19, 1937. At $4 million, the air and sea search by the Navy and Coast Guard was the most costly and intensive in US history up to that time but search and rescue techniques during the era were rudimentary and some of the search was based on erroneous assumptions and flawed information. Official reporting of the search effort was influenced by individuals wary about how their roles in looking for an American hero might be reported by the press. Despite an unprecedented search by the United States Navy and Coast Guard no physical evidence of Earhart, Noonan or the Electra 10E was found. The United States Navy Lexington aircraft carrier and Colorado battleship, the Itasca (and even two Japanese ships, the oceanographic survey vessel Koshu and auxiliary seaplane tender Kamoi) searched for six–seven days each, covering 150,000 square miles (390,000 km2).
Immediately after the end of the official search, Putnam financed a private search by local authorities of nearby Pacific islands and waters, concentrating on the Gilberts. In late July 1937 Putnam chartered two small boats and while he remained in the United States, directed a search of the Phoenix Islands, Christmas (Kiritimati) Island, Fanning (Tabuaeran) Island, the Gilbert Islands and the Marshall Islands, but no trace of the Electra or its occupants were found.
Back in the United States, Putnam acted to become the trustee of Earhart's estate so that he could pay for the searches and related bills. In probate court in Los Angeles, Putnam requested to have the "death in absentia" seven-year waiting period waived so that he could manage Earhart's finances. As a result, Earhart was declared legally dead on January 5, 1939.
Theories on Earhart's disappearance
Many theories emerged after the disappearance of Earhart and Noonan. Two possibilities concerning the flyers' fate have prevailed among researchers and historians:
Crash and sink theory
Many researchers believe the Electra ran out of fuel and Earhart and Noonan ditched at sea. Navigator and aeronautical engineer Elgen Long and his wife Marie K. Long devoted 35 years of exhaustive research to the "crash and sink" theory, which is the most widely accepted explanation for the disappearance. Capt. Laurance F. Safford, USN, who was responsible for the interwar Mid Pacific Strategic Direction Finding Net, and the decoding of the Japanese PURPLE cipher messages for the attack on Pearl Harbor, began a lengthy analysis of the Earhart flight during the 1970s. His research included the intricate radio transmission documentation. Safford came to the conclusion, "poor planning, worse execution." Rear Admiral Richard R. Black, USN, who was in administrative charge of the Howland Island airstrip and was present in the radio room on the Itasca, asserted in 1982 that "the Electra went into the sea about 10 am, July 2, 1937 not far from Howland". British aviation historian Roy Nesbit interpreted evidence in contemporary accounts and Putnam's correspondence and concluded Earhart's Electra was not fully fueled at Lae. William L. Polhemous, the navigator on Ann Pellegreno's 1967 flight which followed Earhart and Noonan's original flight path, studied navigational tables for July 2, 1937 and thought Noonan may have miscalculated the "single line approach" intended to "hit" Howland.
David Jourdan, a former Navy submariner and ocean engineer specializing in deep-sea recoveries, has claimed any transmissions attributed to Gardner Island were false. Through his company Nauticos he extensively searched a 1,200-square-mile (3,100 km2) quadrant north and west of Howland Island during two deep-sea sonar expeditions (2002 and 2006, total cost $4.5 million) and found nothing. The search locations were derived from the line of position (157–337) broadcast by Earhart on July 2, 1937. Nevertheless, Elgen Long's interpretations have led Jourdan to conclude, "The analysis of all the data we have – the fuel analysis, the radio calls, other things – tells me she went into the water off Howland." Earhart's stepson George Palmer Putnam Jr. has been quoted as saying he believes "the plane just ran out of gas." Thomas Crouch, Senior Curator of the National Air and Space Museum, has said the Earhart/Noonan Electra is "18,000 ft. down" and may even yield a range of artifacts that could rival the finds of the Titanic, adding, "...the mystery is part of what keeps us interested. In part, we remember her because she's our favorite missing person."
Gardner Island hypothesis
Immediately after Earhart and Noonan's disappearance, the United States Navy, Paul Mantz and Earhart's mother (who convinced G.P. Putnam to undertake a search in the Gardner Group) all expressed belief the flight had ended in the Phoenix Islands (now part of Kiribati), some 350 miles (560 km) southeast of Howland Island.
In July 2007, an editor at Avionews in Rome called the Gardner Island hypothesis the "most confirmed" explanation of Earhart's disappearance. The International Group for Historic Aircraft Recovery (TIGHAR) has suggested Earhart and Noonan may have flown without further radio transmissions for two-and-a-half hours along the line of position Earhart noted in her last transmission received at Howland, arrived at then-uninhabited Gardner Island (now Nikumaroro) in the Phoenix group, landed on an extensive reef flat near the wreck of a large freighter and ultimately perished.
TIGHAR's research has produced a range of documented archaeological and anecdotal evidence supporting this hypothesis. For example, in 1940, Gerald Gallagher, a British colonial officer and licensed pilot, radioed his superiors to inform them that he had found a "skeleton... possibly that of a woman", along with an old-fashioned sextant box, under a tree on the island's southeast corner. He was ordered to send the remains to Fiji, where in 1941, British colonial authorities took detailed measurements of the bones and concluded they were from a stocky male. However, in 1998 an analysis of the measurement data by forensic anthropologists indicated the skeleton had belonged to a "tall white female of northern European ancestry." The bones themselves were misplaced in Fiji long ago.
Artifacts discovered by TIGHAR on Nikumaroro have included improvised tools, an aluminum panel (possibly from an Electra), an oddly cut piece of clear Plexiglas which is the exact thickness and curvature of an Electra window and a size 9 Cat's Paw heel dating from the 1930s which resembles Earhart's footwear in world flight photos. The evidence remains circumstantial, but Earhart's surviving stepson, George Putnam Jr., has expressed enthusiasm for TIGHAR's research.
A 15-member TIGHAR expedition visited Nikumaroro from July 21 to August 2, 2007, searching for unambiguously identifiable aircraft artifacts and DNA. The group included engineers, environmentalists, a land developer, archaeologists, a sailboat designer, a team doctor and a videographer. They were reported to have found additional artifacts of as yet uncertain origin on the weather-ravaged atoll, including bronze bearings which may have belonged to Earhart's aircraft and a zipper pull which might have come from her flight suit.
Myths, urban legends and unsupported claims
The unresolved circumstances of Amelia Earhart's disappearance, along with her fame, attracted a great body of other claims relating to her last flight, all of which have been generally dismissed for lack of verifiable evidence. Several unsupported theories have become well known in popular culture.
Spies for FDR
A World War II-era movie called Flight for Freedom (1943) starring Rosalind Russell and Fred MacMurray furthered a myth that Earhart was spying on the Japanese in the Pacific at the request of the Franklin Roosevelt administration. By 1949, both the United Press and U.S. Army Intelligence had concluded this rumor was groundless. Jackie Cochran, a pioneer aviatrix and one of Earhart's friends, made a postwar search of numerous files in Japan and was convinced the Japanese were not involved in Earhart's disappearance.
Saipan claims
In 1966, CBS Correspondent Fred Goerner published a book claiming Earhart and Noonan were captured and executed when their aircraft crashed on Saipan Island, part of the Northern Marianas archipelago while it was under Japanese occupation. In 2009, an Earhart relative stated that the pair died in Japanese custody, citing unnamed witnesses including Japanese troops and Saipan natives. He said that the Japanese cut the valuable Lockheed aircraft into scrap and threw the pieces into the ocean.
Thomas E. Devine (who served in a postal Army unit) wrote Eyewitness: The Amelia Earhart Incident which includes a letter from the daughter of a Japanese police official who claimed her father was responsible for Earhart's execution.
Former U.S. Marine Robert Wallack claimed he and other soldiers opened a safe on Saipan and found Earhart's briefcase. Former U.S. Marine Earskin J. Nabers claimed that while serving as a wireless operator on Saipan in 1944, he decoded a message from naval officials which said Earhart's aircraft had been found at Aslito AirField, that he was later ordered to guard the aircraft and then witnessed its destruction. In 1990, the NBC-TV series Unsolved Mysteries broadcast an interview with a Saipanese woman who claimed to have witnessed Earhart and Noonan's execution by Japanese soldiers. No independent confirmation or support has ever emerged for any of these claims. Purported photographs of Earhart during her captivity have been identified as either fraudulent or having been taken before her final flight.
Since the end of World War II, a location on Tinian, which is five miles (eight km) southwest of Saipan, had been rumoured to be the grave of the two aviators. In 2004 a scientifically supported archaeological dig at the site failed to turn up any bones.
Tokyo Rose rumor
A rumor which claimed that Earhart had made propaganda radio broadcasts as one of the many women compelled to serve as Tokyo Rose was investigated closely by George Putnam. According to several biographies of Earhart, Putnam investigated this rumor personally but after listening to many recordings of numerous Tokyo Roses he did not recognize her voice among them.
Rabaul
David Billings, an Australian aircraft engineer, has asserted a map marked with notations consistent with Earhart's engine model number and her airframe's construction number has surfaced. It originates from a World War II Australian patrol stationed on New Britain Island off the coast of New Guinea and indicates a crash site 40 miles (64 km) southwest of Rabaul. Billings has speculated Earhart turned back from Howland and tried to reach Rabaul for fuel. Ground searches have been unsuccessful.
Assuming another identity
In November 2006, the National Geographic Channel aired episode two of the Undiscovered History series about a claim that Earhart survived the world flight, moved to New Jersey, changed her name, remarried and became Irene Craigmile Bolam. This claim had originally been raised in the book Amelia Earhart Lives (1970) by author Joe Klaas, based on the research of Major Joseph Gervais. Irene Bolam, who had been a banker in New York during the 1940s, denied being Earhart, filed a lawsuit requesting $1.5 million in damages and submitted a lengthy affidavit in which she refuted the claims. The book's publisher, McGraw-Hill, withdrew the book from the market shortly after it was released and court records indicate that they made an out of court settlement with her. Subsequently, Bolam's personal life history was thoroughly documented by researchers, eliminating any possibility she was Earhart. Kevin Richlin, a professional criminal forensic expert hired by National Geographic, studied photographs of both women and cited many measurable facial differences between Earhart and Bolam.